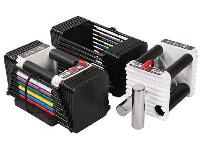 Woot has the PowerBlock Personal Trainer Adjustable Dumbbell Set (New) for 42% off list price at $289.99.
Free Shipping when you log in with your Prime account, otherwise it's a flat $6 rate. Woot! is an Amazon company.
Features Include:
The Personal Trainer Set is a hybrid set utilizing the weight stack from the Personal Set and the handles of the Elite Set. The Personal Trainer Set allows the user to achieve every 2.5 lb jump within the weight range of 2.5-50 lbs per dumbbell. Set comes with 2 dumbbells total.
One Pair (2 total dumbbells) of adjustable dumbbell weights for efficient, cost-effective strength training
Adjusts from 2.5 to 50 pounds in 2.5-pound increments for maximum versatility
Selector pin lets you change weights easily, just like with weight stack at the gym
More compact and balanced than traditional dumbbells
Padded handle for wrist protection
Offers maximum weight of 50 pounds per hand
Dimensions at 50 lbs; 12"W x 6"H x 6"D