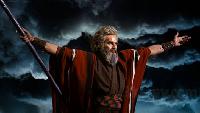 The Ten Commandments (1956) is available from Vudu in 4K UHD for $4.99. It's $14.99 or $19.99 anywhere else.
Yes, it's 65 years old, but it's an amazing film. I watched it earlier this year on blu-ray and loved it. Evidently the 4K transfer is incredible: https://www.blu-ray.com/movies/Th…ay/282780/
Paramount states the following concerning its UHD release of The Ten Commandments:

As part of the restoration done in 2010, the film was scanned in 6K and those files were the basis for this brand new Dolby Vision version, which shows off the full beauty of the original VistaVision negative. The VistaVision format used special cameras to feed 35mm film into the camera horizontally in order to capture a wider image spread over two 35mm film frames, giving VistaVision twice the resolution of regular 35mm film. In addition, Paramount spent well over 150 hours doing new color work and clean-up on the scan. The move to Dolby Vision created the opportunity to further improve the look of the film: blacks are enhanced and improvements were made to smooth out special effects mattes to create the most vibrant and pristine image possible.
Sadly it is Paramount and not MA.
This is part of a " 50s Films for $5 " sale at Vudu. Most are HD, but other 4K options are