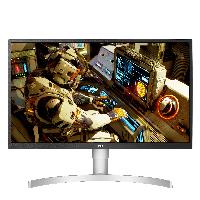 https://www.amazon.com/LG-27UL550…B07PX8JMJV
If you were considering the LG 27UL650 deal that I posted previously but weren't able to get in on it before it expired, you can still get the LG 27UL550 for just around $300. It's similarly to the LG 27UL650 except it has a slightly lower grade IPS panel. It's still 10-bit and supports HDR10, but it's not VESA HDR400 certified, it's slightly less bright (300 vs 350 nits typical) and has 98% instead of 99% sGRB coverage. It also has conventional bezel frame instead of a 3-sided bezel-free design. Otherwise it still has the same type/number of supported inputs, similar response time and also an adjustable stand.
Unlike the 27UL650, which appeared to be a manufacturer discount, this one only appears to be discounted at Amazon (other sellers closer to $400).