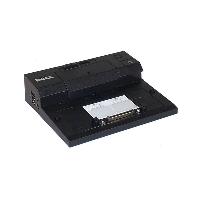 This deal is for a very specific interest and is sort of roundabout, but nonetheless, if you are looking for a spare Dell laptop power adapter, this will net you a 130W one for $20 + tax. The adapter may be refurbished–not new, but there's an equal chance it may be new, too, based on my past experience.*
The story is that dellrefurbished.com is selling their E-Port Docking Station model PW380 for $20 after coupon. This docking station includes a 130W power adapter. If you have a Dell E Series Latitude laptop with docking connector, you can use the docking port, too. But if not, at least you have the 130W power adapter.
Link to the PW380 Docking Station is:
https://www.dellrefurbished.com/i…380/1.html
Coupon code is "PW380DS50", which will take off 50%, and give you free shipping, too.
* I have order several laptops and micro form factor desktops from dellrefurbished.com over the last couple of years, and despite the machines themselves being refurbished, the power adapters that were supplied with them were brand new. I can't confirm that one way or the other for this deal as few details are provided, but even a used 130W adapter for $20 is a good deal.