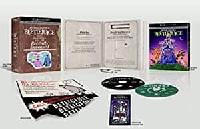 ?The Beetlejuice Collector's Set is perfect for the ultimate Beetlejuice fan! Experience the film for the first time in 4K Ultra HD. This set includes:?
Beetlejuice film on 4K Ultra HD + Blu-ray + Digital?
4" embroidered glow-in-the-dark patch of Beetlejuice's gravestone?
Insert of instructions for life after death emergencies with 3 pieces of collectible chalk?
"Betelgeuse" flyer featured in the film?
All items are housed in a special edition gift box made to look like The Handbook for the Recently Deceased!?
https://www.amazon.com/Beetlejuic…864&sr=8-6
V for Vendetta fans…now's your chance to pick up a collector's set including the newly remastered V for Vendetta in 4K!
What's Included:
V for Vendetta in 4K Ultra HD + Blu-ray + Digital Code
32-page book, highlighting some of the best content from the original book "V For Vendetta: From Script to Film"
A letter written by Director James McTeigue, highlighting the creation of the film and its influence in the world today
House all your collectibles in this unique giftbox package, made to look like the front of V's jail cell from the film
https://www.amazon.com/V-for-Vendetta-4K-Blu-ray/dp/B08FKHZR2J?tag=bluray-034-20&linkCode=xm2&m=ATVPDKIKX0DER?