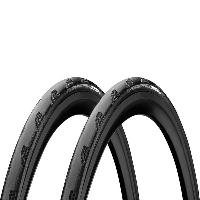 For those that know, the Made in Germany GP5000 was a replacement for the vaunted GP4000, and has been consistently reviewed as one of the best overall road tires you can buy – period. On BicycleRollingResistance.com, it was rated at only 10.0 Watts of power loss @ 120 psi, which is one of the lowest rolling resistance ratings for a clincher tire BRR ever tested.
Btw, you can purchase only one tire if you want @ $43.95 (retail is $79.95), but shipping will be about $5 for orders under $50.
Designed with the latest iteration of Continental's legendary Black Chili rubber compound, the Continental Grand Prix 5000 boasts a 10-gram weight reduction in a 25c width, a 12% reduction in rolling resistance and a 20% increase in durability compared with its predecessor. Thanks to the proprietary Laser Grip Technology which creates a micro tread pattern that expands over the shoulder of the tire, the GP5000 also offers increased all-weather grip, giving you the ability to take even the most technical corners at speed.
Continental believes a comfortable tire is a fast tire – which is why the GP5000 now comes in a 32c width and is constructed with Active Comfort Technology to help smooth the sharpest shocks from the roughest roads. Lined with the tear-resistant but ultra-lightweight Vectran fibers, the GP5000 sets new standards for puncture protection in road race tires. So, whether you're training in the sunshine or racing in a downpour, you'll have complete confidence that your tire out-performs the competition in every category and in all possible conditions.
Handmade clincher tire
Proprietary Black Chili compound for added grip, higher durability and 12% lower rolling resistance
Active comfort technology for vibration damping and increased rider comfort
Vectren protection shield for higher puncture protection and a 20% increase in durability
Laser grip technology, expands tread over the shoulder of the tire for added grip
Weight: 205 grams – 650b x 28mm // 205 grams – 700 x 23mm // 220 grams – 700 x 25mm // 250 grams – 700 x 28mm // 295 grams – 700 x 32mm