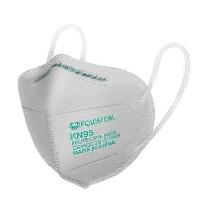 Bona Fide Masks® has the White Ear Loop Powecom® KN95 Respirator Masks, made to the new standard GB2626-2019 for $6.72 with code: VIKINGS
10 masks ($0.67 per mask) $6.72
20 masks ($0.64 per mask) $12.80
30 masks ($0.60 per mask) $18.00
50 masks ($0.59 per mask) $29.50
100 masks ($0.57 per mask) $57.00
The Powecom KN95, made to the new standard, will be the same size, shape and use the same production process. The improvement will be from the new melt blown polypropylene cotton filter layer which will upgrade the breathability factor (respiratory resistance) of the mask. This new enhancement will help make it easier to breathe for the user while still offering filter efficiency greater than 95%.
MATERIAL:
- 46% non-woven polypropylene, 28% melt-blown fabric, – 26% ES hot air cotton.
- Earloops: Latex-free
- Nose piece: Adjustable metal
FEATURES:
- Construction: Multi-layer filtration system of non-woven soft and breathable fibers.
- All respirators manufactured after May 20th, 2020 are affixed with an anti-fake sticker that can be used to verify authenticity.
Bona Fide Masks is the only Powecom distributor to currently offer the Black KN95 face mask for sale in the United States.