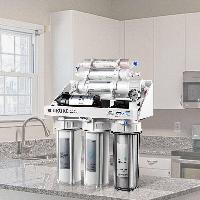 Ukoke has RO8-P 6 Stages Reverse Osmosis, Water Filtration System, 75 GPD with Pump $139 with free shipping
NSF/ANSI 58 & IAPMO WATER QUALITY PLATINUM SEAL Certified–Our products are testing annually by the UPC(Uniform Plumbing Code Certification) & IAPMO(International Association of Plumbing and Mechanical Officials), certified to remove up to 99. 99% of harmful contaminants that commonly appear in municipal and well water.
CERTIFICATIONS–The whole product includes all the filters, tanks, tubing and other water-contacting parts are manufactured to comply strictly with FDA (CFR-Parts 174) and NSF/ANSI 58 standard (58 for reverse osmosis systems, 2018) resulting in the coveted IAPMO Water Quality Platinum Seal Certification (Water Quality Association, TW1812-75, 2018).