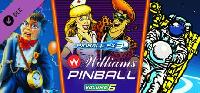 Steam has select Pinball FX3 DLCs (PC Digital Download) for $3.99 and $5.49.
Note, requires a Steam account/launcher in order to activate/play. Requires base game which is currently free.
Available:
Pinball FX3 – Sci-Fi Pack $3.99
Williams™ Pinball: Volume 6 $5.49
Details:
Sci-Fi Pack includes 3 tables:
"Mars", "Paranormal" and "Earth Defense."
Williams Pinball Volume 6 includes includes 3 tables:
- FUNHOUSE: Starring Rudy, pinball's most iconic ventriloquist dummy antagonist! Don't let his relentless taunting get to you.
- SPACE STATION: Prepare for liftoff. We have ignition. It's time to launch this classic.
- DR. DUDE AND HIS EXCELLENT RAY™: Drop in to Dr. Dude's Kinetic Clinic! Get hip! Earn respect! Be the envy of your friends! Advance the DUDE-O-METER from Plain Dude to Super Dude for the ultimate dude-o-riffic reward. Way cool pinball has finally arrived!
Offer Valid through October 4th.