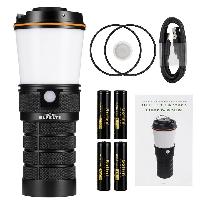 https://www.amazon.com/dp/B097MN6…asin_title
Hello, y'all. I am back, with another Sofirn promo code. This time, for a high-quality lantern light. This BLF LT1 Lantern is very popular amongst flashlight enthusiasts and if you like to go camping, it is definitely something that would be nice to have in your tent, while out in the woods. This lantern is also something that could be very helpful, if you live in an area that suffers from frequent power outages.
The normal Amazon price is $85, but it is available at a price of $63.25, using Promo Code 25MTQ5JB at checkout.
For some important details about this lantern, on the brightest output setting (700-800 lumens), it runs for about 6 to 7 hours. In mid-range brightness mode, it can run for over 24 hours. And on the lowest output setting (5 lumens), it can actually produce a small amount of light for over a month; yes, literally, over 30 days. The 5 lumens output is not a lot of light, but it's a light source that can actually work, on a single charge, for over 30 days. Keep in mind that this isn't a flashlight that you can use to shine and light up objects that are hundreds of feet away; it's actually a lantern and is to be used to light up the immediate area around you. However, as I mentioned, it is a nice, reliable, useful lantern light to have, especially, if you're going camping or if you find yourself at home without electricity.
This light has built-in USB-C charging and it includes four (4) 18650, 3000mAh lithium-ion batteries and a USB-A-to-USB-C charging cable. Another cool feature is that this lantern light can actually be used without batteries, by just plugging in a USB-C cable and powering it from an external power source (like a portable power bank charger or a wall charger that's plugged in to a house's wall outlet). This lantern's light output can also be switched between warm white (2700K) and neutral white (5000K) to meet your different usage scenarios. And, I should also mention that this LT1 Lantern actually functions as a power bank/portable charger, that can be used to charge your cell phone or other USB-powered devices. Meaning, yes, you can actually use this lantern to charge your cellphone, if you'd like to.
The package includes: LT1 lantern, 4* 18650 batteries, USB-C charging cable, spare O-ring, manual and includes Sofirn's useful customer service.
Use Promo Code 25MTQ5JB for 25% off at checkout, to bring the price down to $63.25..
As usual, I'm sorry for getting carried away and including so many details; but, my OCD usually makes it difficult for me to not be overly thorough. However, I would also like to reiterate that this is another high-quality light and it is a wise investment that you can get usage out of, literally, for several years to come. It's also a great gift idea, for someone who could use a badass lantern, that also can be used as a portable charger/power bank.
By the way, I wanted to say, thank you very much, for all of the upvotes and positive feedback/comments that my last Sofirn deal post got. It was very encouraging, for sure, and I really appreciated it. If anyone has any constructive criticism or helpful advice/suggestions about how I can make my deal post better, or if anyone would like to share any additional helpful information, that would be genuinely appreciated. Thanks!