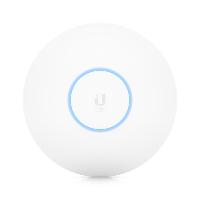 It appears that Ubiquiti's U6-Pro access point is in stock and out of the early access program. My Ubiquiti stock alert didn't trigger because they've apparently made a new sku listing for it (or something).
Max order quantity of 2. Reddit thread suggests that UI may be counting prior purchases towards that limit.
Does not include a required PoE injector. I bought the U-PoE-AT .
https://store.ui.com/collections/…ofessional
Access Point WiFi 6 Pro
SKU: U6-Pro-US
Specs:
Indoor, dual-band WiFi 6 access point that can support over 300 clients with its 5.3 Gbps aggregate throughput rate.
The Access Point WiFi 6 Pro (U6 Pro) is a high-performance, dual-band WiFi 6 access point ideal for home and office use. The U6 Pro is capable of reaching an aggregate throughput rate up to 5.3 Gbps with its 5 GHz (4×4 MIMO) and 2.4 GHz (2×2 MIMO) bands, which allows it to support over 300 concurrently connected clients while maintaining an even, reliable wireless experience across your entire network. It can also isolate your guest traffic to ensure optimal security and speed. The U6 Pro also operates at full 4×4 MIMO with 160 MHz channels to create high-capacity wireless uplinks and facilitate faster data transfer. It can be set up in minutes and fully managed with the UniFi Network application*.
Features:
Dual-band WiFi 6 (802.11ax)
5 GHz (4×4 MU-MIMO) band with a 4.8 Gbps throughput rate
2.4 GHz (2×2 MIMO) band with a 573.5 Mbps throughput rate
Operates at full 4×4 MIMO with 160 MHz bandwidth
300+ concurrent client capacity
Guest Traffic Isolation, which enhances wireless network security and lowers traffic congestion
Included universal mounting plate, backing plate, and screw kit
Note: Maximum order quantity limited to 2 per customer.