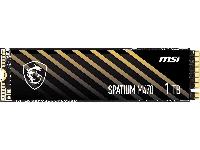 From Newegg's Black Friday deal. Read/write speeds seem a halfway between say, Samsung 970 Evo Plus and 980 Pro speeds (claimed sequential read/write of 5000/4400 MB/sec). Phison E16 controller. TLC.
Assuming it's a decent drive, $75 (down from $170) seems like a deal.
$75 Black Friday = $170 pre-Black Friday – $75 Instant Savings – $20 Mail in Rebate.
First link is to Newegg's Black Friday flyer – see page 18 for this deal. Second link is to the Newegg page for this device, which presumably is where to purchase it come Nov 22. Third link is to MSI's page for this drive.
https://indd.adobe.com/view/cf0737e0-328b-41d6-bd22-22d79e202b0e?cm_sp=Head_Navigation-_-Under_Search_Bar-_-Black+Friday+Ad&icid=670418
https://www.newegg.com/msi-1tb-spatium-series/p/N82E16820140013?Description=spatium%20M470&cm_re=spatium_M470-_-20-140-013-_-Product&quicklink=true
https://www.msi.com/Storage/SPATIUM-M470-PCIe-4.0-NVMe-M.2
Here are some reviews from the past year (since the Spatium brand name was new to me, though obviously MSI is not).
https://www.pcmag.com/reviews/msi-spatium-m470
https://www.techpowerup.com/revie…m470-1-tb/
https://www.guru3d.com/articles-p…iew,1.html
This drive claims high endurance – 1600 TBW.
Anyone have experience with this drive?
Happy Black Friday!