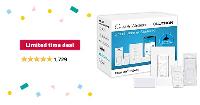 Amazon has the Lutron Caseta Smart Start Kit with Dimmer Switch, Smart Bridge, and Pico Remote for $79.95 (usually around $100 according to CCC). I believe this was previously FP.
https://www.amazon.com/dp/B07G5V6…Z6TPRZH3C4
They also have the Lutron Caseta Deluxe Kit for $131.90 (normally $160+), which includes everything in the above but with an extra dimmer switch and Pico remote (which is about another $65 if purchased separately).
https://www.amazon.com/dp/B01M3XJ…R52DPE93BX
These Lutron Caseta kits allow you to integrate existing lighting into "smart" home automation systems and can be controlled through their own app and/or Apple HomeKit, Alexa, or Google Home. I am using it to combine existing recessed lighting with a system of Philips Hue bulbs and accessories through HomeKit.