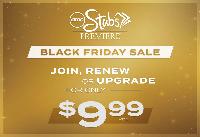 1-Year AMC Stubs Premiere Membership for New or Existing Customers $9.99
https://www.amctheatres.com/amcstubs/premiere
AMC Stubs Premiere
-Regular price is $15.
-$9.99 for 1 Year membership (can renew immediately for another $9.99 for another year)
-New or existing members
-Price is valid from 11/24/21 until 11/29/21
-You cannot use reward to pay for the membership.
Perks of Premiere Membership:
No online ticket buying fees
$5 reward for every $50 spent buying tickets and concessions
Free size upgrades on popcorn and soda
Discount Tuesdays
Free birthday gift of large popcorn and large drink valued at at least $10 (requires you to enter your birthday in your profile)
You will see the discount at check out.