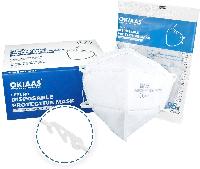 Toolant.com has 100Pcs OKIAAS FFP2 Face Masks (equivalent to KN95), 5-Layer Black Masks Individually Wrapped (75%Off) Use code: 83DAMYSW8XDV. Free Shipping
Description
OKIAAS FFP2NR Respirator has been CE certified by AENOR in accordance with EN 149:2001 + A1:2009 regulation (EU) 2016/425 standard.
This KN95 mask are made of 2 layers of non-woven cloth, 2 layers of melt-blown fabric and 1layer of skin-friendly non-woven fabric, which can effectively filter ? 95% particles in the air.
Adjustable Nose Strip, Soft Nose Pad and Reinforced Elastic Ear Loops ensure a seamless fit and a comfort wearing. Come with free mask extension strap, suitable for glasses wears and eliminates pressure behind ears for all-day wearing.
Each mask is individually packaged, which ensures the cleanliness of masks before use. Easy to carry in airport, office, shopping centers and public transportation. Bulk package suitable for personal, family and commercial use.
Please aware: This KN95 mask is NOT an N95 mask.