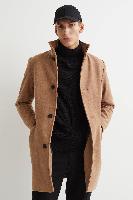 *SLICK DEAL MODS Put this FP PLEASE!
H&M currently has a holiday coupon that you can apply to cart to ANY item one item on their site. If you combine this with the Amex offer for H&M which gives you 25% statement credit for up to $10, you can get some pretty good deals. Plus free shipping!
Sign up for a free H&M account and a coupon is available to apply at check out. It does expire on 12/26/21, so hurry up! No codes.
Examples:
Quilted Outdoor Jacket
Original price: $59.99
30% off + $10 = $31.99
Water-repellent Sports Jacket
Original price: $79.99
30% off + $10 = $45.99
Wool-blend Funnel-collar Coat? -
Original price: $99
30% off + $10 CB = $59.30
H&M
https://www2.hm.com/en_us/account/rewards/
AMEX
https://global.americanexpress.com/offers/eligible?