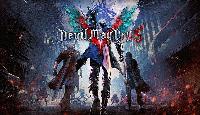 GameStop
About Devil May Cry 5:
The Devil you know returns in this brand new entry in the over-the-top action series. Prepare to get downright demonic with this signature blend of high-octane stylized action and otherworldly & original characters the series is known for. Director Hideaki Itsuno and the core team have returned to create the most insane, technically advanced and utterly unmissable action experience of this generation!
Currently $19.79 at Steam receiving "Overwhelmingly Positive" Reviews
About Devil May Cry 3: Special Edition:
Awaken your inner demon. Set before the events of the original Devil May Cry, this action classic sees Dante facing off against his twin brother, Vergil, who has designs on unlocking a gate to the demonic realm, to which Dante himself holds the key… Featuring selectable combat styles such as Swordmaster and Gunslinger, Devil May Cry 3 brings an extra level of strategy to the series' renowned stylish gameplay.
This edition includes all of the Special Edition content, including the ability to play as Vergil, and even includes extra bonus features exclusive to the Nintendo Switch.