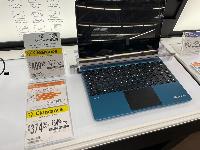 Walmart has started clearing out their Intel 11th generation Gateway 14.1" notebooks now that the is out.
I saw the black model listed at $374.25 at my local walmart (see attached photo).
Specs/Key Features
Intel Core i5 1135G7 2.4GHz Processor (11th Gen)
14.1" 1920x1080p Edge to Edge IP FHD Display w/ 1MP Front-Facing Camera
512GB Solid State Drive SSD (M.2 SATA)
Second M.2 SATA port easily accessible via two screws on underside of laptop
16GB RAM
Intel Iris Xe Graphics
THX Audio
WiFi w/ Bluetooth 5.1
Precision Touchpad/Built-in Fingerprint Scanner

Micro SD Slot
Windows 10 Home (w/ free upgrade to Windows 11)
1x HDMI 2.0
1x USB Type-C USB 3.1 10Gbps (supports PD/charging in addition to dedicated charging port for included AC adapter)
1x USB Type-A USB 3.1 10Gbps
1x USB Type-A USB 3.1 5Gps
Colors:
Extra Technical Details: I have purchased 5 refurbs of this model. Here are some interesting tidbits:
It weights exactly 3 lbs 9.4 oz on my postal scale (official specs on Walmart's page say 4 lbs)
The BIOS ships with conservative PL1/PL2 power levels. If you increase them modestly you'll see a very large gain in multi-core performance. See my instructions and results .
All of the refurb's I've bought have the Rev 1.2 of the motherboard (see my post with pic ). This has an upgraded WiFi (Intel WiFi 6 AX201) – I posted detailed WiFi tech info include iperf performance .
Lots more tech details , including SMART data for internal SSD, SPD data for DRAM, and battery info)
I've seen three different memory manufacturers in the mobos for the soldered 16GB. Some had different bank layouts but all performed similarly. All are dual-channel.
BIOS is completely unlocked, with tons of developer-level details you've probably never seen exposed in a BIOS. Many don't apply to this system (such as NVMe and TB3) since it's a generic BIOS meant for lots of different systems.
Undocumented way to get to BIOS boot menu: Fn+F7
By default the system is configured for Modern Standby (S0). I despise Modern Standby (reasons ) and prefer S3 Suspend-to-RAM sleep. The system will go into S3 if you disable Modern Standby (instructions here ) but will hang when you come out of it. I found a workaround – press the LCD/F1 key (without Fn) twice after exiting standby – that will cycle the display to external and internal. On the second press the screen will come back alive.
The included 512GB M.2 SATA drive is a no-name brand that performs reasonably well. Full IDENTIFY details .
By default the keyboard's F1-F12 keys are configured for their Fn equivalents (ie, display brightness, sound volume, etc…). There is no way to change this behavior, so if you use the native F1-F12 keys a lot you'll be annoyed about always having to press Fn+Function key. You should be able to use a third-party software program to remap the keys.
It's easy to accidentally disable the touchpad because it's the Fn function mapped to the ESC key. If you ever find the touchpad suddenly not working it's likely because you hit the key.
Be sure to run memtest86 for the four passes (free edition) on these. One of the refurbs I bought failed on the second pass with lots of memory errors.
Since the BIOS is fully unlocked it has a nice feature that lets you disable each SATA port individually. I use that for a clean dual-boot setup, with Windows on the included SSD and Linux on an SSD I installed in the 2nd M.2 slot.
Previous deals for reference: