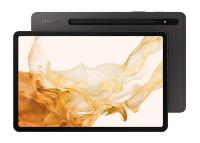 Samsung.com offers 128GB Samsung Galaxy Tab S8 for $129.99 with Eligible Trade-In of Samsung Galaxy Tab S7 when you follow the instructions below. Shipping is free.
Note: Additional discounts may apply for eligible EDU / EPP / Military discount members.
Instructions:
Click here for 128GB Samsung Galaxy Tab S8
Choose 8GB (RAM) + 128GB
Choose your color
Under Choose your trade-in devices select Samsung Galaxy Tab S7
Select 'Yes I Agree' to the Trade-In Program Terms and Conditions
Click continue to proceed to checkout

Your total should be $129.99 + Free Shipping
Specs:
11.0" LTPS LCD Display
Qualcomm Snapdragon 8 Gen 1 Processor
8GB RAM
128GB Storage
8,000mAh Battery
Wi-Fi 6 + Bluetooth v5.0
OP Note: Seems better than the unless I'm missing something? It was $200 + Free $50 Play Store Gift Card and this is $130 without the GC. Also, your Tab S7 keyboard case (and other cases) I believe should still work with the Tab S8.