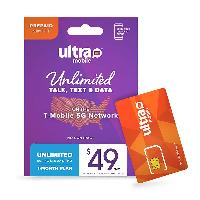 Ultra mobile, parent company of Mint mobile.
This is a great deal for your short-term visiting friends, especially if they coming from oversea. ( toss away after a month )
I would NOT recommend for long term as many other carriers are cheaper.
On the T-Mobile 5G Network
Unlimited Nationwide Talk, Text & Data
WiFi Calling & Text
Free Mobile Hotspot
Free Unlimited Talk to 80+ INTL Countries
Free Unlimited Global Text
From Bestbuy. Original price $50 include SIM. ( Prepaid, no credit card info needed to activate )
https://www.bestbuy.com/site/ultr…Id=6481914
Please note: I have confirmed with Ultra CSR that card must be ACTIVATED within 45 days after purchased.