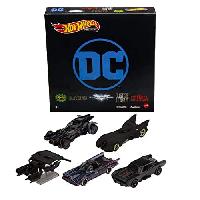 Price:
$20.50 lower ( 54% savings) than the list price of $37.99
Features:
The Hot Wheels Premium Batman Bundle delivers 5 fan-favorite castings of the Batmobile in elite packaging for the adult collector and fans of the Batman franchise.
Each vehicle is 1:64 scale and was hand-chosen from the entire line of premium Batman castings.
The packaging was designed to enhance the collectability of the entire set.
The vehicles are detailed replicas of those featured throughout the Batman franchise that collectors love and appreciate.
Makes a great gift for fans of the Caped Crusader and adult collectors who value the detail, story and precision behind each Batman-inspired vehicle.
Customer reviews:
????? / 269 global ratings
https://smile.amazon.com/dp/B09CG…0DER&psc=1