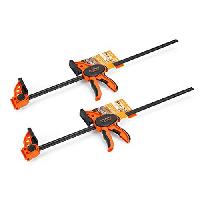 Jorgensen 24" One Hand Clamp/Spreader – 2-pack, Medium Duty, E-Z Hold Bar Clamps Set
1. You can never have too many clamps
2. These Jorgensen clamps are decent for their intended purpose… quick grip clamping of relative light pressure. They are rated to 300# of clamping force, but in my experience with this model says that's a stretch. However, they do hold 100-150# of clamping force quite well, which is plenty for many of my "not enough hands" tasks.
3. No longer made in USA. Just accept that reality and move on. You're not actually willing to pay $300 for these clamps, which is probably what they would cost if still made in USA.
https://www.amazon.com/Jorgensen-…B07K9ZV8MZ
$43.19 with free Prime shipping and free returns.
Ships from Amazon
Sold by GreatStar Tools
4.8/5 stars on 1002 ratings
Lowest price per the camel was $39.99 last October.