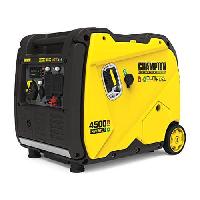 Price:
$143.21 lower ( 15% savings) than the previous price of $929.38
Features:
DUAL FUEL: Operate your 4500-watt portable generator right out of the box on either gasoline or propane, plus the unit holds 0.6-quarts of oil (10W-30 oil included) and has a low oil shut-off sensor
ELECTRIC START: Battery included, plus Quick Touch Panel allows you to access all your controls in one spot
QUIET OPERATION: 61 dBA is perfect for RVs, tailgating, your next project or backup power for your home, featuring 4500 starting watts and 3500 running watts with up to 14 hours run time on gasoline
CLEAN POWER: RV Ready with a 120V 30A RV, plus two 120V 20A household outlets with clean electricity (less than 3% THD) and 12V DC outlet with dual USB adapter
CHAMPION SUPPORT: Includes 3-year limited warranty with FREE lifetime technical support from dedicated experts
Customer reviews:
????? / 5,028 global ratings
https://smile.amazon.com/dp/B08L9…0DER&psc=1
Previous at $824.50 with +32 Deal Score and .