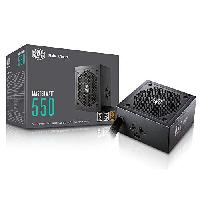 Price:
$48.00 lower ( 56% savings) than the list price of $84.99
$20 coupon applied at checkout.
Post-purchase rebate: $30.00
Purchases from 08/01-08/14
Features:
Semi-Fanless up till 15% load – Experience noise-free operation in normal PC loads under 15% output.
Dual Forward and DC-to-DC circuit design – The Dual Forward and DC-to-DC circuit design offers reliability and stability especially significant in +3.3V and +5V output.
5 years warranty – The MasterWatt comes with a 5 year warranty
More Conductive PCI-e Cables – The MasterWatt uses 16AWG cables for PCI-e cables. Less resistance means better efficiency.
Durable LDB bearing – Silencio technology combines sealed LDB bearings with quiet fan blades delivering a long lifetime of quiet cooling.
Customer reviews:
????? / 2,229 global ratings
https://smile.amazon.com/dp/B074Z…0DER&psc=1