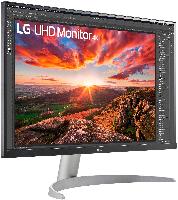 BestBuy has 27" LG 27UP80B-W monitor on sale for $299 (Previously $499)
Specs:
Size: 27"
Color Gamut (Typ.): DCI-P3 95% (CIE1976)
Refresh Rate: 60Hz
Brightness: 400cd (typ) / 320cd (Min)
Display Type: IPS
Resolution: 3840 x 2160
Contrast Ratio: 1200:1 (Typ.), 1000:1 (Min.)
Inputs: USB-C, HDMI, DIsplayPort
USB-C Power Delivery: 90W
USB-C Data Transmission: Yes
I was looking for an affordable 27" 4k USB-C monitor for my Macbook Pro.
My requirements are:
1. USB-C with power delivery
2. 27 inch 4K
3. Reputable brand
4. Under $300
This is the cheapest 27" 4k with USB-C I could find from a reputable brand.
** This is not a gaming monitor **
I don't like the stand, but I don't plan to use it anyway.