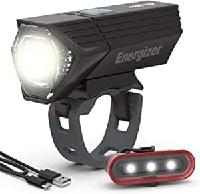 A couple of Energizer LED flashlights with 50% off coupons at Amazon at the moment.
https://www.amazon.com/gp/product/B09Q9BW4CS
The X400 rechargeable bicycle light and rear clip on light is currently $9.61 after 50% off coupon. Cheaper than it's been in the past ($10.xx?). Front light only runs for around 2 hours at 400 lumens (there's also a low mode) and rear indicators run for around 5 1/2 hours. Rechargeable with micro USB.
https://www.amazon.com/gp/product/B08LQX8SVF
Energizer inspection pen light is only $7.50 after 50% off. It runs on 2x AAA batteries and has a 50 hour run time (no mention of lumens that I can see.)
I didn't order the pen light as I'd prefer to avoid more AAA flashlights, but thought someone else might be interested.