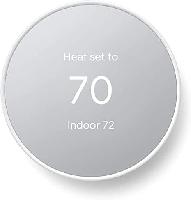 LADWP is offering Los Angeles Residents a free Google Nest Thermostat (Snow or Charcoal) with LADWP and manufacturers savings. Just pay tax and shipping.
This offer doesn't require you to enroll in any programs that let LADWP control your AC. You can get the thermostat for $0 plus shipping and taxes as it combines:
1. LADWP's standard $75 energy efficiency rebate (always available)
2. LADWP's $25 "Summer Savings" rebate (available through 9/30)
3. Google's $30 promotional rebate (available through 8/21)
LADWP does have a program that you can enroll in to get a gift card for $125 plus $60 annually but enrolling in that program is optional and is not required to get the free Nest Thermostat.