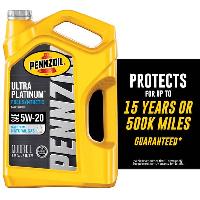 ennzoil Ultra Platinum 5W-20 Full Synthetic Motor Oil, 5 Quart. = 2 for 22.60 after $25 Rebate.
https://www.walmart.com/ip/Pennzo…gn_id=9383
Here is the link to the $25 rebate. https://www.pennzoil.com/en_us/pr…otion.html?
roduct details
Pennzoil Ultra Platinum Full Synthetic 5W-20 motor oil is made from natural gas, not crude. Made for extreme performance, Pennzoil Ultra Platinum outperforms conventional oils in terms of low-temperature performance and volatility control. Our full synthetic motor oils are uniquely engineered from our revolutionary PurePlus Technology which is a patented process that converts pure natural gas into a high quality, full synthetic base oil.
Because it is made from natural gas, the high-quality base oil contains fewer impurities than base oils made from crude oil, and when combined with our advanced additive technology creates one of the best formulations in our Pennzoil portfolio. Pennzoil Ultra Platinum far exceeds the most stringent car manufacturer requirements for cleanliness and protection (based on ILSAC GF-6), and is suitable for all car, SUV, light van, truck gasoline, and turbocharged engines; under all driving conditions.