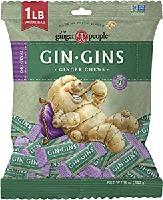 Amazon.com has The Ginger People Gin Gins Chews 1 pound bag, Original Ginger for $12.02
PREMIUM FRESH GINGER: Made with 10% fresh ginger. All GIN GINS contain more fresh ginger than any other brand. We use sustainably farmed, zero waste ginger from Indonesia, one of the premier ginger growing regions in the world.
TASTES DELICIOUS: Flavorful chewy ginger candy. Whether you're treating a bellyache, nausea or simply treating yourself, GIN GINS ginger chews are always easy to have on hand. These healthy snacks are a spicy candy that tastes delicious.
CONVENIENT: Easily grab an individually wrapped ginger chew on the go; this healthier-for-you chewy ginger candy soothes the stomach, satisfies your sweet tooth and lifts your mood. Often used on planes and in cars for anti-nausea relief.
HEALTH BENEFITS: Ginger chews are often used for boosting immunity, digestion, reducing inflammation and helping improve a wide variety of ailments. GIN GINS contain no artificial sweeteners, are non-GMO, vegan and gluten-free.
PRODUCT NOTE: Exposure to heat or sunlight may lead to melting/damage of product. Hence customers are expected to be available during the product delivery.
#1 IN GINGER: We Know Ginger Best. As a family-owned business we've pioneered unique and award-winning products for nearly 40 years; our healthy, delicious ginger products revitalize your body and mind with simple, clean, and fresh ingredients.