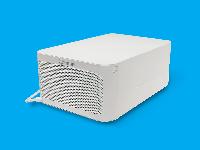 Ok I know, it's not cheap but please hear me out, lol.
I received the first version for Christmas 5 years ago. Not to sound like Ralphie from A Christmas Story but it was the best Christmas gift I had ever received or would receive.
I hate sleeping anywhere else now, like at hotels or at my parents house because I don't have it with me. I mean I guess I could lug it around with me but I'm too lazy for that, lol.
I was most excited about the cooling part because I usually am hot in bed and that part really is great but omg, the heating part is the part I love the best. You know when you're cold and you stick a hair dryer up your sleeve or up the bottom of your shirt and it feels good? Just me? lol But seriously, it's awesome.
My friends all know about my love of the bedjet. It's almost sad
Honestly though, it's great. I do not have the version 3, just version 1. But there are SO many settings you can pick on that one, different temps, times, presets, etc.
Bedjet Climate Comfort – $379 (usually $569)
Bedjet 3 Dual Zone Climate Comfort Sleep for couples – $869 (Usually $1269 plus you can get an extra $50 when you submit your email, making it $819).
They also have cool add ons like
Bedjet Aromatherapy Upgrade kit – $39 (Usually $50)
They also have special sheets you can buy for it but if I'm being honest, I've never bought those. I just stick it under my comforter and it's awesome.
I included that pic of a cat because it popped up as an option of a pic I could use. I have no idea why it was there but the cat is cute, lol.
Edited to add – That last picture, that's my cat, who loves to sleep in front of the bed jet where the hot air is coming in, lol. You can see the comforter puffed up behind him.