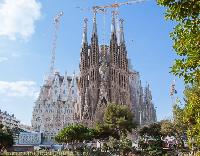 so that i'm not seeing things, i've attached 2 screenshots with 2 different travel dates.
Iberia For Level Spain a low-cost OneWorld Alliance member carrier, via Expedia have round trip airfares travelling from Boston (BOS) to Barcelona Spain (BCN) for $246, nonstop. These are basic economy fares, a restricted-type fare that allows a personal item and a carry-on bag. There is no seat selection and no change.
Travel Availability:

Departs BOS: Jan 24, 26, 31; Feb 2, 7, 9, 28
Returns: Jan 26, 28, 31; Feb 2, 7, 9, 14, 16, 18, 28; March 7
To book this deal, use dates and book it with Expedia . Want to see more travel deals? Click or .
Disclaimer: List price is an estimate and subject to fluctuate based on air carrier/hotel location, flight times/season or travel dates.
.