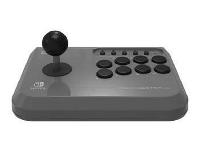 Hello!
The Hori Mini Fight Stick for Nintendo Switch Gray is on sale at Gamestop for $21.97.
It seems to not really show up when you search on Gamestop's website, but a direct link works at https://www.gamestop.com/gaming-a…93543.html
I've been looking for a cheap raspberry pi joystick controller as it's easier for toddlers and the elderly to pay video games.