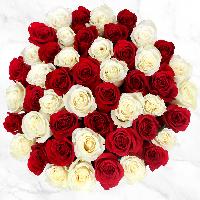 https://www.costco.com/.product.100514838.html
For those who want to order their roses from Costco 2 weeks early before they increase prices to $59.99 for Valentine's Day delivery windows this particular rose color scheme (red/white) is available for delivery 1/31-2/1 whereas all of their other roses priced at $49.99 is blocked out 2 weeks before.
I noticed that Costco's normal price for $49.99 for a 50-stem bunch of roses was blocked out for all other color schemes EXCEPT for the red/white combo 2 weeks before. The other options had availability the week of 1/24-1/27 but the red/white was available the week of 1/31, which was unusual. Pre-order valentine's day roses also had a time period that overlapped with the week of 1/31 so this is def on the earlier end of ordering roses but for $10 off in the month of February.