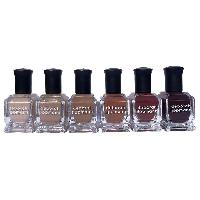 deborah lippmann Chocolate Cravings Nail Polish, 6-piece Set $10. Reg $20.
F/S from Costco. HERE
Milk, frosting, brownies, fudge – is there any food that doesn't taste infinitely better whipped up
in chocolate? The ultimate crowd-pleaser, it's one of the most beloved flavors of all time. That's
why this collection is destined to be a hands-down hit.
Includes (6) Polishes at 0.27 Fl. Oz each:
Cream (full-coverage white chocolate crème)
Savoy Truffle (full-coverage chocolate milk creme)
Cafe Con Leche (full-coverage chocolate mousse creme)
Java Jive (full-coverage chocolate frosting creme)
Chocolate Choco Choco (full-coverage chocolate brownie creme)
Hot Fudge (full-coverage dark chocolate fudge creme)
The Healthy Alternative to Gel Polish! Gel Lab Pro Color is an award-winning,
treatment-enriched nail polish that delivers the gloss and cushion of a gel manicure without the
nail damage. This dual-patented formula with 10 exclusive ingredients delivers nail health, wear,
and shine. Requires no lamps or tools.Vegan, 10 Free formula. No Animal testing.