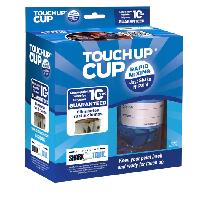 I was at my local Lowe's in Durham, NC and found a clearance table in front of the paint counter. One of the items is the Touch Up Cup Paint Storage Container 2pk for $1.92. I bought two, there were about 20 still there.
I expect that Lowe's is discontinuing this item and is clearing out remaining stock. They previously sold the 3pk on Lowes.com, but it is showing as no longer available.
Looking on BS for the product number (1066104) or UPC (860007524509) shows it as being Out of Stock at my location, which is not accurate. Given this, I expect that this is a Big YMMV.
This same item currently sells at Walmart.com for $9.97. A 3pk direct from touchupcup.com is normally $19.99, currently on sale for $16.95, and for the same price on Amazon.com.
Features:
Store excess paint in Touch Up Cup for quick, easy, accessible touch up.
Holds 13 fluid ounces of paint.
Built-in blending sphere for rapid mixing.
Air-tight seal stores paint for years.
Keeps paint fresh and free of rust clumps.