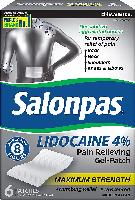 35% coupon applied at checkout. Subscribe & Save orders only
Subscribe and save can be canceled at any time
Salonpas, Gel-Patch, 6 count, for Back, Neck, Shoulder, Knee Pain and Muscle Soreness $6.08
About this item
GEL PATCH: Get numbing relief from one of Salonpas' most popular patches. The LIDOCAINE Pain Relieving Gel-Patch uses hydro-gel based technology plus 4% Lidocaine to provide numbing relief.
MAXIMUM STRENGTH: With the highest percentage of Lidocaine available without a prescription, this unscented gel patch helps desensitize aggravated nerves & provide numbing relief.
TARGETED RELIEF: Provides temporary relief of pain & stiffness associated with sore back, neck, wrist, ankle, hip, shoulder, knee & elbow. Help alleviate muscle soreness, backache, joint pain & sprains.
LONG-LASTING: For penetrating, mess-free & targeted relief, apply spray or patch to manage pain in specific areas. Salonpas pain relieving patches & sprays offer pain relief for up to 8 hours.
SOOTHE YOUR PAIN: With pain relief patches, sprays, creams, gels & liquids, Salonpas is here to help you get through your day with discreet, easy-to-use, topical pain relief for temporary relief of aches & pains.
FSA or HSA eligible
They also make the smaller basic Menthol 3% 60 Count $8.82 great for medicine cabinet and time to time Pain and Muscle Soreness.