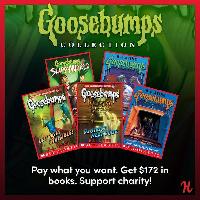 https://www.humblebundle.com/book…-inc-books
A terrifyingly fun treasury of R. L. Stine tales
For more than 30 years, R. L. Stine has been scaring and delighting young minds with his iconic Goosebumps series. Now, readers of all ages can discover the monsters, mysteries, and malevolent ventriloquist dummies that sparked the imaginations—and haunted the dreams—of generations in The Ghost Next Door, Let's Get Invisible!, It Came from Beneath the Sink!, and more. Get a treasury of over 30 ebooks, and help support Active Minds with your purchase!