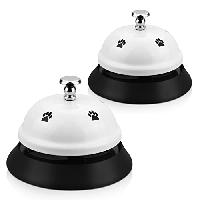 Dog Potty Training Bells, 2PCS $4.
F/S for Amazon Prime members. HERE
Upgrade Version: The dog bell sounds louder than most pet training bells. The bell can also be heard at a distance. The weight of the bell is heavier. It is not easy for pets to move or overturn it on the floor.
Portable: The dog training bells is 3.5inch*2.75inch. It can be stored in a backpack or pet bag conveniently, allowing you to interact with your pet anytime and anywhere for interactive training.
Easy to Use: Don't need to install, just put the dog bell in any flat place.The dog bell will ring when the pets press the button on the top with his paw. After repeating several times, the pets will use it skillfully.
Multi-purpose Pet Training Bell: The dog training bell is ideal for pet toilet training, home training, interactive play and prevent burglary. It can also be used as a desk bell for office, shop, restaurant, bar, hotel.
Rustproof: The dog potty bell is made of metal material. The rustproof coating provides excellent anti-rust and abrasion resistance, which can be used for long-term training or play.