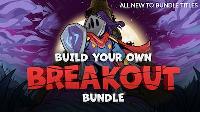 Fanatical has Build Your Own Breakout Bundle (PC Digital Download) on sale as listed below.
Options:
3 games for $4.99
5 games for $6.99
8 games for $9.99
Available Games:
Good Night, Knight
Void Scrappers

Fates of Ort
Red Tape
UNDETECTED
Depths of Sanity
Rogue Invader
Ashina: The Red Witch
Gunborg: Dark Matters
Salamander County Public Television
Light Fairytale: Episode 1
MetaPhysical
Shred! 2: ft Sam Pilgrim
Sweetest Monster
The Fairy's Song
Smart Factory Tycoon
Professor Lupo: Ocean
Toy Tinker Simulator
Kiwi Clicker: Juiced Up
Start;again
Deal Instructions:
Click here to go to the product page.
Choose your games and complete purchase (discount will be applied once 3, 5, or 8 games are selected).
Fanatical will send you an email with the Steam codes.
Download or open Steam and click on Games – Activate Product.
Enter codes that were provided from Fanatical.