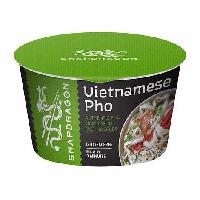 Deal Link $11.69
For me, I had a 25% S&S clip coupon YMMV
Bought 3 x $11.69 = $35.07 – $2.92 S&S = $32.15 (no tax! previous orders they charged tax)
On my alt amazon account I had a 40% S&S coupon
$11.69 – $4.68 = $7.01
A delicious noodle soup that's synonymous with Vietnamese cuisine with regional and personal recipes found all over the country. Our Vietnamese Pho is made in the classic style with a rich beef flavored broth, a vibrant mix of spices such as chilies, cinnamon, and star anise, and rice noodles that soak up all the umami flavors. It's perfect on its own or used as a canvas for your wildest culinary creations.
Cheaper than previous Frontpage at &