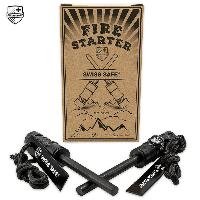 FieldSupply.com has 2-Pack: Swiss Safe 5-in-1 Fire Starter for $7.99
Apply code FSSWISS23 – Free Shipping
Features:

Start fires in any weather conditions, over 16k strikes at 5,500°F with Magnesium Rod
Each box includes 2 Fire Starters with unique design

Built-in compass, 150dB Whistle, Steel Scraper, 450LB 8core Paracord and Rod
More reliable than matches or lighter, weighs less than 2 ounces, 5 inches long
Swiss Safe promises customer satisfaction and our items to be free of any manufacturer defects

5-in-1:

Magnesium Rod – 5/16" inch thick ferro rod, lasts 16,000 strikes.
Steel Scraper – Scrape magnesium shavings with serrated edge, ignite sparks with straight edge!
Built-in Compass – Small compass for emergency navigation when outdoors in the wilderness.
Survival Whistle – For emergency survival situations.
450LB 8 Core Paracord – 20" of military paracord. Use in survival situations or wear firestarter as necklace, bracelet, keychain or lanyard.