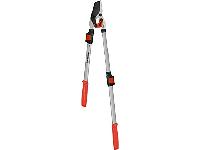 $37 at HD, and $35 at Amazon. Also, Amazon shows over 1.6k review with a 4.7 avg score. Woot's price is definitely better than anywhere else. I own a pair of Fiskars loppers with this compound cutting power lever, and it's kinda amazing the size branches you can cut with these vs standard loppers. The extendable handles are really nice to have as well. If I didn't already have the Fiskars, I'd have bought these.
The Corona® Extendable DualLINK™ Bypass Lopper with ComfortGEL® grip takes everything you love about our other loppers and adds in longer reach.
Boosted power and reduced effort unite through DualLINK, a power-compounding- link feature that appeals to both engaged gardeners and landscapers searching for ease-of-cut.
Power SOURCE® cutting action for limbs up to 1 3/4 inches
ShockGUARD® bumper system
Strong, trapezoid steel handles extend 29 – 37 IN
Extreme comfort grips
Patent-pending blade and hook design
Reduced handle opening for less work and more power