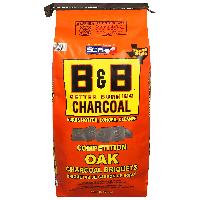 Good price on some B&B. Ordered online & shipped free w/minimum order.
History shows price as regular but the trick has been finding it in stock… get it while you can.
B&B Charcoal has been making Authentic Texas Barbecue since 1961. Texas Style B&B 17.6 lb Competition Oak Briquets are a favorite among champion pitmasters because of their long and clean burn. Charcoal briquets create an optimal amount of smoke, burning at low or high temperatures, which produces that great smoky flavor you're looking for. These all natural briquets are made from real oak wood and contains no chemical additives or fillers. Our briquets also burns hotter, longer, cleaner, adding real wood smoke flavor that bring out the best in your grilling.
B&B Charcoal All-natural briquets made from oak
Burns hotter, longer, cleaner
Great for use in all styles of outdoor cooking appliances including classic kettle style barbecues, barrel grills & smokers, and Kamado style ceramic cookers
No chemical additives or fillers
The bag comes with 17.6 lbs of hardwood briquets. The bag dimensions are 12 in W x 17 in D x 6 in H