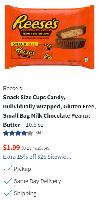 If you want to stock up on some Halloween candy, you can get some bags of Reese's Snack Size (10.5 oz) & Snicker's Fun Size (10.59 oz) candy bars for $1.70 each at Walgreens by following the following instructions:
Add a combined total of 13 bags of Reese's Snack Size & Snicker's Fun Size candy bars to your cart (these are currently on sale for $1.99 each). You might not be able to do more than 12 bags of one of them, so you'll need to at least have one bag of each.
Your total should come to a little over $26, at which time you can apply the promo code "FUN15" to take 15% of your $25+ order. This will bring the total closer to $22-$23, which is about $1.70 per bag.
Note that the " FUN15" promo code can be used on anything on the website for 15% off $25+ orders. If you have something else you need to order from Walgreens, you could technically order fewer than 13 candy bar bags, as long as your total order is over $25 and still get the discount.
Other Information:
Each bag has approx. 14 (Reese's) or 18 (Snickers) candy bars.
13 bags would be about 182-234 candy bars (approx. 136 oz).
Price comparison research: