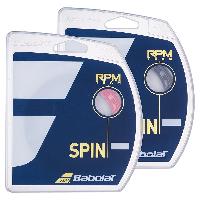 Tennis Express has Babolat RPM Team Tennis String 16 and 17 gauge (aka SPIN) on sale for 46% off! Black or Pink. Shipping (2 day) is free on $50+!
https://www.tennisexpress.com/BAB…ring-37201
The lowest I have seen these strings is around 10-12 dollars a pack so really good deal IMO. Love these strings compared to RPM Blast due to durability. Great control and power all around.