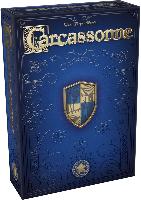 Amazon has Carcassonne 20th Anniversary Edition for $33.98.
Shipping is free.
Price:
$16.01 lower ( 32% savings) than the list price of $49.99
Customer reviews:
????? / 282 global ratings
About this Item:
SPECIAL 20TH ANNIVERSARY EDITION: Celebrate 20 years of Carcassonne with this special edition of the classic tile-placement game. The Carcassonne 20th Anniversary Edition comes with the complete base game, and is compatible with all Carcassonne expansions.
STRATEGY GAME – PLAN YOUR WAY TO VICTORY: Develop the landscape of a medieval fortress city one tile at a time. Whether blocking a city's growth or connecting with your opponent's road to share the points, Carcassonne provides plenty of ways to use your cunning and outsmart your opponents.
HIGH REPLAYABILITY: With its simple yet rich game mechanics and tiles that can be configured into numerous combinations, Carcassonne appeals to beginners and veteran gamers alike.
UPDATED EDITION: Carcassonne 20th Anniversary features upgraded visuals, extra tiles, and enhanced gameplay. Players will build the board as they play, creating the landscape of medieval Carcassonne filled with cities, roads, monasteries, and fields.

NUMBER OF PLAYERS AND AVERAGE PLAYTIME: Carcassonne is a fun family board game for adults and kids designed for 2 to 5 players and is suitable for ages 7 and up. Average playtime is about 30 to 45 minutes.
amazon.com/dp/B092R6CGKQ
Please report deal if expired