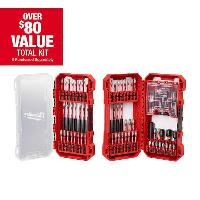 Home Depot has 100-Piece Milwaukee Shockwave Impact Duty Alloy Steel Screw Driver Bit Set on sale for $34.97. Shipping is free.
Rokket's Research:
This price matches the August 2023 which received + 28 votes from the community.
Description:
Wear Guard Tip protects fit over the life of the bit
Optimized Shock Zone absorbs peak torque and prevents breaking

Custom Alloy76 Steel is engineered to extend bit life
Precise fit, custom machined tip prevents stripping and reduces wobble
Shock Zones are optimized in both length and width across all tip types for best performance across tip types
Laser hardening at the tip creates an outer protective shield for improved wear resistance
Customized geometry and heat treatment per tip type for best performance across tip types
Up to 50X Life vs other impact bits
Laser etched size for easy identification
Includes Shockwave Impact Duty nut drivers with the most durable magnet for longer life in tough applications
Customizable accessory case is designed for use in Packout
Designed for use with impact drivers and drill drivers
Includes: 1 compact magnetic bit holder, furty eight 1 in. insert bits: (2) P1, (6) P2, (2) PR2, (2) P3, (2) SQ1, (6) SQ2, (2) SQ3, (2) T15, (6) T20, (6) T25, (2) SL#6, (2) SL#8, (2) SL#10, 9.64 in. Hex, 5/32 in. Hex, 3/16 in. Hex, 1/4 in. Hex, thirty seven 2 in. power bits: (2) P1, (7) P2, (2) P3, (2) SQ1, (6) SQ2, (2) SQ3, (2) T10, (2) T15, (6) T20, (6) T25, (11) 3-1/2" power bits: (3) P2, SQ1, (3) SQ2, T20, (3) T25, three 1-7/8 in. nut drivers: 1/4 in., 5/16 in., 3/8 in.