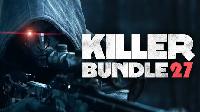 Fanatical has 20 Game Killer Bundle 27 (PC Digital Download) on sale for $25.
Killer Bundle 27 Includes:
King's Bounty 2
Iron Harvest
Zombie Army Trilogy
Sniper Ghost Warrior Contracts
Sniper Elite 4 Deluxe Edition
Troublemaker

Sir Whoopass: Immortal Death
Red Faction Guerrilla Re-Mars-tered
ICBM
Lost Castle
Wayward
Internet Cafe Simulator 2
Dreamscaper
Terror of Hemasaurus
Turnip Boy Commits Tax Evasion
Totally Reliable Delivery Service
Nadir: A Grimdark Deckbuilder
Senko no Ronde 2
Finding Paradise
Wolfenstein 3D
Deal Instructions:
Click here to go to the product page.
Add to cart and complete purchase.
Fanatical will send you an email with the Steam codes.
Download or open Steam and click on Games – Activate Product.
Enter codes that were provided from Fanatical.