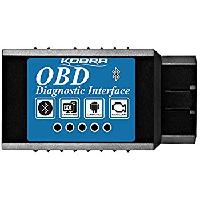 linkazon
Special offers and product promotions
Size: Bluetooth For Andorid/Windows
Save 32% each on Qualifying items offered by E-Tech distributors when you purchase 1 or more. Enter code 6XJ9DRLY at checkout
CUTTING-EDGE OBD2 SCANNER ELM327 BLUETOOTH TECHNOLOGY: This high-end, 2017 Upgraded Version of the ELM327 Version 1.5 Bluetooth OBD Scanner Diagnostic Tool and Car Code Reader seamlessly works with the Torque app, OBD Link, ScanMaster Lite, OBD Car Doctor and many more totally free or paid apps on the Google Play Store And Windows Phone Store to turn your car into a truly Smart Car!
WIDE CAR MAKE & MODEL COMPATIBILITY: Scan Tool works for EVERY car model and make manufactured between 1996-2016! It works with every U.S. car made post 1996, when OBDII technology became a prerequisite, as well as all European and Asian car brand vehicles. This Bluetooth Scanner pairs with any Android or Windows Phone Device EXCLUSIVELY. It does not work with iOS software or iPhones.
FOR BOTH MANUFACTURER & GENERIC CODES CHECK: This ELM327 Bluetooth Scanner and Car Scan Tool retrieves both generic, as well as car manufacturer-specific Diagnostic Trouble Codes (DTC), helping you overcome any troubleshooting with ease. You will be able to clear the "Check Engine" light indication and other trouble codes, effortlessly!
WIRELESS DATA STREAM FOR ENGINE LIGHT CHECK: This Bluetooth Scanner connects to your vehicle's OBD II Port and smoothly streams data wirelessly, via Bluetooth connection, to your cell phone or Android/Windows Device, such as computers and tablets. It efficiently analyzes and clears your vehicle's "Check Engine Light", as well as reading your car engine's diagnostic codes making it the ultimate Check Engine Light Eliminator!

100% RISK FREE PURCHASE: Providing you with the friendliest customer service is our primary goal. This is why we offer you a 1 year money back guarantee in case this auto diagnostic scanner does not live up to your expectations, no questions asked!