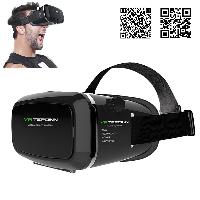 https://www.amazon.com/dp/B01HXPMED0/
Regular Prices: $13.98 and $21.98
Sale Prices: $5.87 and $9.23
Code: 7HJG85GY (Works for both)
Smart phone turned into virtual reality viewer
The surface is matte and it also uses a high-definition optical resin lenses.
Three adjustable straps can adjust pressure from the bridge of nose, super face foam protector, comfortable design.
Recommended phone size is 4.7- 6.0 inch
From the page, the difference with the upgraded model says:
Lighter, bigger lens, get normal use with glasses, asynchronous focus adjustment – so people whose left and right eyes of different degrees of myopia also can use it.